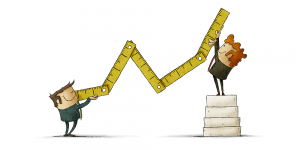 If you read our Free Handbook to choose the right industrial caps feeder, you might have noticed that the last point is about the possibility to change the height of a feeder when you are in a building site.
When we talk about a feeder's height, what do we mean technically?
In this article we talk about the discharge height, that is the specific height where the feeder discharges on another machinery.
This is an issue that, at an early stage, you absolutely have to consider for a very important reason.
In fact, when you place the feeder in a production line, one of the key parameters that need to be verified is the height from which to discharge, so that it can interface with the orientor, that carries the cap towards the corking machine.
Have you ever arrived in a building site finding a situation completely different from the one you were expecting? This is something that often happens, causing unexpected hardly predictable in an early stage of the development. For example, as I could experience, the feeder could be too high or, on the contrary, too low.
Furthermore, in the future a client could ask for an additional machinery do be placed/installed on the corking machine, for example.
We could mention the "germicidal lamps": they get inserted directly from the inside of the machinery. In this way the feeder's height increases and it is necessary to lift the feeder, too.
If you had a single piece feeder, which means a feeder composed of a completely welded and not detachable belt, you would waste a lot of time to change its height.
In this case, to work this out being in a building site, you should carry with you a lot of different work tools, such as a grinding wheel, a welder and so on.
Furthermore, these work tools can't often be used at the clients', especially in the Food Sector.
So, to change the height of a feeder of this kind, you should take it away and modify it, causing a prolonged stop of the line and some extra costs.
All this without considering that the feeder might also be halfway around the world. In this case it would be necessary to look for a local mechanical lab near the building site.
Instead, a modular feeder can be extended or lowered using some simple work tools.
A non-specialized mechanic is perfectly able to do this, simply using the right wrenches and following an assembly – disassembly – belt replacement procedure.
This is a possibility that you must consider, because it may conceal some hidden and not predictable costs.
Obviously, a modular feeder is equipped with some extra features than a single belt machinery. They are two systems which are apparently the same but completely different as regards their flexibility.
How many times did you have to face an unpleasant situation like the one I have been told you?
The necessity to modify the feeder's height often occurs. This is why it is important to dispose of a modular machinery.
If you want to explore which hidden Problems and Costs lie behind a possible wrong choice of your Feeder, download our FREE HANDBOOK:
"The five questions you ABSOLUTELY have to ask yourself before buying a CAPS FEEDER"